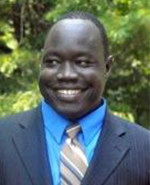 Board Members
Abraham Majak, President
I am Abraham Madit Majak.  I am the founder and president of RSSVP, a non-profit organization dedicated to raising awareness and the funding necessary to rebuild the infrastructure in South Sudan.
I survived the years of civil war in Sudan and was brought to the United States in 2001.  Since then, I have finished my secondary education; started college; found employment; started RSSVP with my brother, Isaac; am the President of Trinity Sudanese Lutheran Ministry in Lansing, Michigan; and am the Vice-President of Southern Sudan Rescue and Relief Association (SSRRA), a charitable organization that provides assistance to the Sudanese who have been relocated to the U.S.
While life is full and busy, I deeply desire to share good fortune and a better start in life with my family and countrymen back in South Sudan.
My brother and I are two of the lucky ones.  We survived.  And after many years at Kakuma refugee camp in Kenya, we were chosen to come to the U.S. – I came to Michigan and Isaac was sent to Massachusetts.  We have been fed, healed, nurtured, educated, and befriended.  Now it is time to give back to those left behind.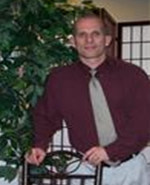 Chuck Roost, Vice President
Charles F. Roost, who serves as Vice-President of RSSVP, has been a Chiropractor for over 30 years.  He has served on the boards of several state and national organizations, including the Christian Chiropractors Association, Global Outreach Development, and his local church.  Dr. Roost founded the Michigan Christian Chiropractors Association, and heads up a free clinic at the Lansing City Rescue Mission – a nonprofit organization serving the Lansing-area homeless.  He has written four books and lives with his wife in mid-Michigan.  They are the foster parents for two Sudanese young men, including Abraham Majak.
Telaina Eriksen, Treasurer
Telaina Morse Eriksen, treasurer, is also a poet and essayist.  She holds a B.A. in journalism from Michigan State University and an MFA in creative writing from Antioch University-Los Angeles.  Her work has appeared in The Truth About the Fact, Recovering the Self, poemmemoirstory, apathy is easy, Heartlands Magazine and other publications.  She is a visiting assistant professor for the Michigan State University Department of English.  She lives in East Lansing, Michigan with her husband, two children, and their Shetland Sheepdog, Sprite.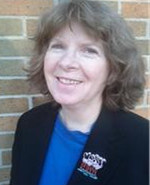 Susan Stutzky, Secretary
Sue met Abe at an event sponsored by the One Book One Community program and was struck by how deeply he wanted to help his people in Sudan.  An offer to proofread a brochure for him has since turned into a commitment to assist in his and his brother's efforts to bring water, education, and medical care to their village and villages nearby.  Sue works as a legislative analyst for the House Fiscal Agency, a nonpartisan office within the Michigan House of Representatives.  An as yet unpublished poet, essayist, and short-story writer, Sue also serves on a community advisory board for the Center for Poetry at Michigan State University.  She and her husband, Glenn, live in East Lansing, Michigan.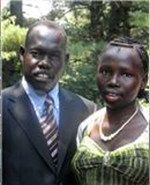 Isaac Majak
My name is Isaac M. Majak.  I was born in 1981 in Yirol district in Southern Sudan.  In 1983, the Civil War broke out between South Sudan and North Sudan.  Our village was attacked and my father was killed.  I thought our mother also was dead.  I escaped with my brother on foot to Ethiopia.  In 1991, the Ethiopian civil war broke out and we were forced to flee back to Sudan and then across the border to Kenya.  From there, the UN displaced us to a refugee camp in Northern Kenya called Kakuma.  After many years, our mother learned we were alive and she eventually found us at Kakuma.  After just a few years of being together again, Abe and I were chosen to come to America.  Once again, our mother had to say to goodbye so we could have a chance at a new life.
I came to Boston, Massachusetts in 2001. I graduated high school in June, 2005 and started electrical engineers training.  In 2007, I stopped college and went back to Africa to visit our mother who was now living in Uganda with other Sudanese.  Our reunion was full of joy and tears.  I and my mother took a trip together to Sudan to our family's original village.  My mother and our family's other members chose my wife, Rachel Ater, for marriage.  I was so excited to marry this beautiful woman.  I agreed to marry Rachel because I respect the family decisions.  We married in 2008 and I brought my wife and my mother back to Uganda to live.  I returned to Boston to arrange for Rachel to join me.
In 2010, my wife and I had a son called Thon Isaac Majak.  We made a plan; I work overnight at CVS Pharmacy as a supervisor and in the morning my wife goes to high school to get her diploma.  I do really enjoy taking care of my baby boy every day.  I love my wife and my son so much.  I am very grateful that I'm a father and a family man.  May God bless my family.
Stateside Community Advisors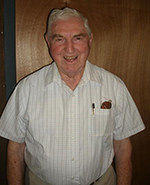 Irv Nichols
A native of North Carolina with an AB degree from Duke University and a Master of Public Health from the University of Michigan, Irv has had a distinguished career serving various health-related associations and organizations, including the Michigan and Kentucky chapters of the Tuberculosis Association, the American College of Emergency Medicine, American Red Cross, and Michigan Substance Abuse Services.  Irv is a tireless volunteer in his community with service to the Lansing, Michigan Sesquicentennial Foundation as well as serving as past president of the Michigan Public Health Association, Michigan School Health Association, and Lansing Chapter of the Rotary Club.  Irv has long worked with the Lansing-area Sudanese refugee community.  In addition to his volunteer work with RSSVP, Irv serves as a board member and chair of fundraising for the Southern Sudan Rescue and Relief Association (SSRRA), which provides assistance to the Sudanese who have been relocated to the U.S.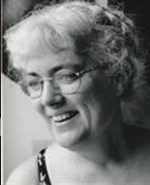 Ellen Morgan 
Ellen has been involved with the Sudanese community in the Boston area since 2001 when three of the Lost Boys started high school with her son.  She has traveled to South Sudan twice with Isaac Majak to meet his family and to attend his wedding.  Ms. Morgan is a photographer and her pictures of South Sudan can be seen at http://www.pbase.com/ellen_morgan.  In addition to her volunteer work with RSSVP, she currently serves on the board of the Sudanese Education Fund.
Danielle Vasquez
My name is Danielle Vasquez and I first learned about the boys and girls in Sudan in 2000 when Abraham Madit Majak and Long Kon Long left Kakuma Refuge Camp and moved in with my family in Holt, MI.  Since then I have been learning as much as I can about the history and present condition of the beautiful country of South Sudan.
I have not yet traveled to Sudan but hope to in the near future.  In 2005 I traveled to Uganda and worked as a photojournalist within the refuge camps affected by the Lord's Resistance Army.
I am a graduate of the University of Pittsburgh with a degree in English Writing.  I am moving to Philadelphia with my husband and am currently working to obtain my Masters in Education.  I am very excited about my current and future involvement with RSSVP.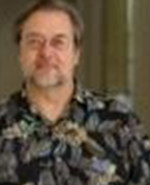 Glenn Stutzky
Glenn R. Stutzky, LMSW, MSW is a faculty member of the School of Social Work at Michigan State University.  Glenn designed one of the nation's first college courses on school violence and is a recognized expert on the role that bullying plays in the development of violence and how schools should address student to student sexual harassment.  As a Social Worker, he is committed, through RSSVP, to helping the people of South Sudan gain self-sufficiency as a new nation.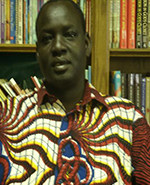 Magok G Riak Dud
Magok Riak Dud is a native of Yirol, South Sudan.  Due to the civil war in South Sudan, and after a long odyssey that took him to North Sudan, Egypt, and Italy, he arrived in the U.S. in October, 2006.  Magok trained as a Structural Engineer and is now training to become an Architect.  He is also a certified teacher and intercultural mediator.  Before leaving Sudan, he taught Math and Chemistry in the internal displaced schools in Khartoum as a volunteer.  Magok was a founding member of St. Augustine Secondary School and worked and taught as an intercultural mediator in Italy.
As a community organizer, he helped organize and lead the South Sudanese community in both Italy and in Lansing, Michigan.  Magok served as a member of the Engineering Without Borders Association in Italy and is currently a member of the American Institute of Architecture Students (AIAS), board member of RSSVP, and President of the Southern Sudan Rescue and Relief Association (SSRRA), which was founded in Lansing in 2003 to provide assistance to the Sudanese who have been relocated to the U.S.
Magok personally experienced how difficult it is to go to school in South Sudan.  His first two years of schooling in Yirol he sat under a mango tree learning to write in the sand.  That is why he believes that change in village life has to start with someone, somewhere.  To Magok, the best way to be a part of that change is being a part of RSSVP.
Community Advisors, Yirol Area, South Sudan
In South Sudan, several local leaders of Yirol Area, Lakes State, have agreed to be the local contacts and also to provide local oversight for the duration of the Projects.  These include the following: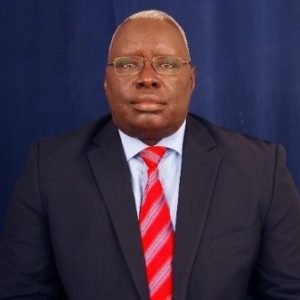 Dr. Marial Awou Yol
Dr. Marial Yol is a current professor of Economics at University of Juba. He is the recent, former member of the Ministry of Finance and Economic planning, Ministry of Finance and national Economy, and the World Bank in South Sudan government. After graduating from the Gezira University in Sudan with a Bachelor of Science degree (Honours, Division II upper) in 1984, I joined the University of Juba as a teaching assistant in economics Department, College of Social and Economic Studies.
In 1990, I was awarded Fulbright scholarship that was funded by the US Government to undertake a course of study leading to a Master of Arts degree in Vanderbilt University in Nashville, Tennessee which was awarded in May 1992. I then returned to Sudan and resumed teaching as a lecturer in the same college. In December 1997, I received a government-funded scholarship to undertake a course of study leading to Ph.D. degree in economics in the University Putra Malaysia (UPM). In February 2002, I was awarded a Ph.D. degree in economics. Upon my return to the University of Juba in May 2002, I was appointed an assistant Professor in economics. In July 2003, I joined Putra University as a contract lecturer in economics. After spending six years in UPM, I joined the World Bank as a senior consultant in monetary and exchange rate policies in May 2009, placed in the Central Bank of Sudan. A year later, I was appointed as a state Minister of Finance in the Ministry of Finance and National Economy in the Government of Sudan. After one year, following the secession of South Sudan from the north, I was appointed Deputy Minister of Finance in the Ministry of Finance and Economic Planning in the first post-independence Government of South Sudan. I continued in this position from August 2011 until July 2013.
Dr. Yol says he is "happy to bring my leadership skills to RSSVP helping people of Majok-Chedhiop village and Pajaak people."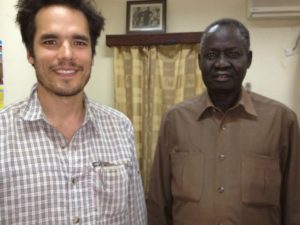 John Machiek
Dr. John Machiek Acuoth working with the South Sudan government in the office of Census. When Abe, Israel, and Isaac traveled to South Sudan in 2012, John Machiek organized and provided for them a car for their transportation to Yirol. He says he is "proud to be a part of RSSVP as they help the people of Majok-Chedhiop village and Pajaak tribes."
James Matong
James Matong Makur is teacher of Majok-Chedhiop village. He is one of our key supporters in the village as we bring water and schools to the village.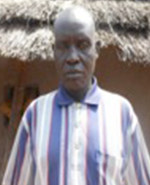 James Deng Chol
James Deng Chol, elder and community organizer in Yirol Area and Majok-Chedhiop, enjoys basketball, hockey, and boxing and listening to his radio.  Currently working as a staff member for SPLM, Mr. Chol has a long career of helping others in need.  Past endeavors include working with women and children with a Social Welfare Program in Wau State, working with the Red Cross, World Food Program, and Peace and Justice.  He says he is "happy to bring my leadership skills to RSSVP helping people of Majok-Chedhiop village."
Abraham Maluk Wut
Abraham Maluk Wut, a former SPLM Assistant Secretary for planning and research with a background in bookkeeping, Mr. Wut is a well-known community elder in Yirol who works as an administrative officer for the local government.  He says he enjoys watching football and reading newspapers and has an interest in cultivation.