Well Projects
Majok-Chedhiop Has a Well!
From this view, the cement hole in the ground may not look like much, but to the villagers of Majok-Chedhiop, it is the first access to clean water they've had in decades.
The short story is that as we neared the $10,000 goal, we tried to find another NGO or charity operating in Africa with well-digging equipment that we could partner with.  But due to ongoing tensions in the northern border areas with northern Sudan and deplorable road conditions that chew up trucks, we were unable to locate another group.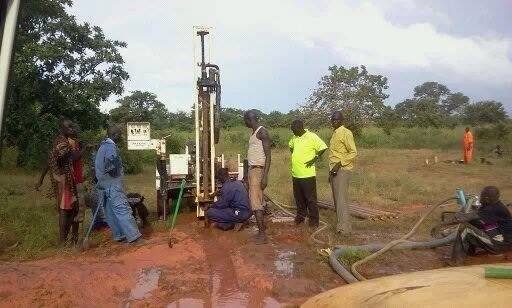 So, in late Spring of 2012, RSSVP President Abe Majak and his brother, Isaac, along with documentarian Israel Vasquez, traveled to South Sudan to meet with local leaders and find a reputable, local company to drill the well.  Once in country, Abe and Isaac met with South Sudan government officials in the new capitol, Juba, met with contactors in Yirol, and of course, met with village elders who graciously donated the land for the well.  The road leading to the village was so overgrown that the trucks couldn't get through!  The children and young adults of the village pitched in to clear the way for the equipment and before the end of September, fresh water was flowing.
HUGE THANKS go to all of our supporters:  Rotary Club of Lansing Foundation;  R.E. Olds Foundation; Eastminster Presbyterian Church; Walk the Walk for Glencairn (elementary school in East Lansing, MI); and the many folks who have donated at presentations, fundraisers, and through this website.
How excited are the residents of Majok-Chedhiop? 
Here are their words, as told to Abe:
Each day hundreds of thousands of people across villages in South Sudan drink unclean water, and now our village is lucky one — get well so that our people can drink fresh water.
You guys save our people, for no longer get sick from parasites and cholera because our women will not collect water from shallow well, or surface pond.
You and your American friends help our daughters and our women for they will no longer have to walk miles each day to get water for family.
Thanks to those Americans who think about us to drill well for us; God will always be with them.
Ongoing ground support: Before returning to the US, Abe recruited Bishop Daniel Deng Abeil to be in charge of revenue dedicated to the upkeep of the well, in addition to future projects.  Also recruited to oversee the continuing projects from the field are Abraham Maluk, a man greatly respected in the Village, and James Deng Chol, Abe and Isaac's uncle, who had been beaten almost to death and imprisoned in Khartoum for about a decade for his work finding children abducted from the South and taken to the North as slaves.  Isaac Makur Maker is currently working with a United Nations representative from Khartoum in the North to establish RSSVP as an NGO.